Driving in Thailand is challenging. You should be an experienced driver and be aware that the risk is greater compared to most countries. Thailand has one of the highest rates of road deaths in the world according to the World Health Organization.
Hiring a Car
---
If you want to hire a vehicle in Thailand and drive yourself then you should first obtain an international driving license in your country prior to departure and also take your drivers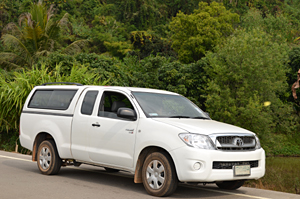 license. If your license is in the English language, then it may suffice. Your passport is also essential when hiring a car or a scooter. Do not leave your passport as collateral when hiring a vehicle. When securing a scooter when out shopping etc., aways use your own chain and padlock. Always take your passport, international license, driving license and car rental papers with you when driving in case you are stopped by traffic police.
Be aware that if you hire a scooter or motorbike then your travel insurance will probably only cover any accident if you have a valid motorbike license from your home country.
When hiring a vehicle you will probably be asked to sign a second credit card payment for security of that vehicle. Payment will not be processed by the car rental company unless you do not return the vehicle. Choose a well known rental company.
You may be given an option to rent a car along with a driver. Ensure the driver can speak your language to some degree. It is customary to tip the driver at the end of the day. You may also like to ask them to join you for lunch and pay for their meal
Some well known car rental agencies in Thailand- Thai Rent A Car, Budget Car Rental, Hertz Car Rental, Avis Car Rental
Fuel
---
Fuel / Petrol / Service / Gas (depending on your countries terminology) stations do not have "self serve". They always have attendants and it is best to pay cash. Car fuel is called "Petrol" and there is Benzine (unleaded fuel 91ron & 95ron) and Gasohol (blended unleaded with alchohol). The other fuel is Diesal for trucks and some 4WD / SUV vehicles. Fuel is not cheap in Thailand. "Gas" is for (compressed) natural gas vehicles. Most petrol stations are modern with clean toilet facilities and a restaurant or cafe style eatery.
Navigation
---
Thailand's roads are generally in good condition and well maintained but can sometimes be winding and steep. If you intend to drive in rural and mountainous areas then the car (preferably a diesal pickup utility, SUV or 4WD) must have a high capacity motor, or you will not make it up the steep decents, especially with a full load of people and luggage.
Always get the optional GPS Sat Nav fitted to the vehicle for city and rural area navigation, or you will get lost. Buy a road map in Thailand at a bookstore. One very comprehensive A4 size booklet is the "Roadway Thailand Atlas" where it is in Thai and English, and being an atlas, has far greater detail than just a street map.
Driving Tips
---
My wife is Thai, and although she does not drive a car, she has scolded schooled me in the ways of driving in Thailand.
Transport drives on the LEFT side of the road but do not be surprised seeing scooters driving on the opposite side, on the verge of the road.
Be especially careful when driving. Being a "farang" (foreigner) it will always be your fault in the event of an accident unless you can prove otherwise. Comprehensive vehicle insurance and personal accident insurance is essential. Always be courteous, polite and calm at all times.
When driving a car and stopping at traffic lights at the very front, stop several metres behind the white line to allow people on scooters in the front.
Drive smoothly with no sudden acceleration or stopping and be tolerent with merging vehicles and scooters.
Give people on scooters and bicycles a wide berth when passing. Overtaking closely will be met with hostility.
Indicate well in advance when turning, giving much more than is normally required in western countries. This is especially required out of the city area on country roads. Slow down at a constant pace, no quick turns.
Quite often in the smaller cities and towns the traffic lights are set to flash amber late at night. Drivers will need to cross the intersection with care. If you hear a truck horn in the distance coming closer and closer, stop and give way because they surely will not !!
In the cities during peak times it is common that traffic police direct traffic.
Always be on the lookout for people but also watch out for dogs on the road as some tend to lay on the side or in the center and sometimes cross the road without looking (although most are quite smart and look before crossing). Dogs are numerous and are treated with respect in Thailand.
Countryside roads usually have narrower lanes on each side of the road for scooter and bicycle traffic and is not to be used for cars. Be careful when turning so as not to "cut off" anybody.
Speed limits in the city and outer areas are usually 50 to 60km/h (30-37 mph). On freeways/express-ways it varies between 90 and 120 km/h (55-75 mph).
You should wear seat belts in the car and a helmet for scooters/motor bikes. Traffic signs use international standards for shape and color, but usually in Thai writing. Road and street signs for location names and directions usually have Thai and English.