Most Thai people are Theravaden Buddhists. Theravada (pronounced "terra-vah-dah") meaning "doctorine of the elders" is based on the earliest surviving record of the Buddha's teachings. Buddhism and Temples are an important aspect of Thai life.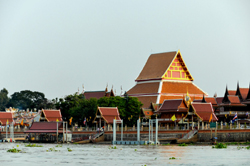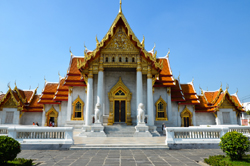 Phra Ubosot
---
Commonly called a Bot or Ubosot.
This is the hall where monks in Thailand get ordained and is also their main prayer room. Looking much like a Viharn but disquinguishable by the placement of Sema stones at the four corners of the building and the center of each wall of the building. A total of eight stones on the outside. A Ubosot may not be open to the public.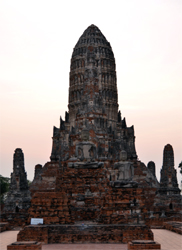 Prang
---
A Prang is built in the form of a spire. In Thailand the Prang originates from old Khmer architecture. Commonly found in the ancient city of Ayutthaya but the most famous Prang in Thailand is Wat Arun which is located on the banks of the Chao Phraya river in Bangkok. The photo here shows a Prang from Ayutthaya.