Group Tours
---
Booking group tours through travel agents and hotel booking agents in the hotel can be the easiest way of seeing the local attractions, but can quickly add up to be an expensive way of touring around Thailand. Travel agents and hotel agents are generally just a commissioned agent or charge you a booking fee that is merely a phone call to a private taxi driver to take you to the attraction and make the actual booking with the place you are seeing. Many hotels do seem to have a booking person in their foyer that do not overcharge. Check online the actual entry price of each attraction and add on what a taxi would cost before booking any tour or attraction.
Private Tours
---
Tour agents and hotel booking agents simply act as an a go-between for a private taxi with driver where you can pay up front with a hefty booking fee that you dont know about as you just pay the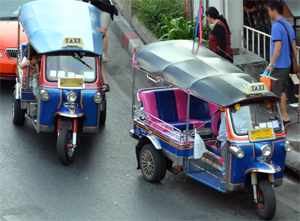 one price. You can organize your own private tour with a tuk-tuk driver or taxi but there are risks, but i have never had a problem. If you negotiate a fair and reasonable price and dont try to barter a ridiculously low amount then you should have a pleasent day or half day touring with the driver. Fuel prices in Thailand are not cheap, the cost of driving you around will be substantial.
A half day (a few hours) in a tuk-tuk should cost 500 baht or less, a full day should be 1000 baht or less. Double that amount for a taxi or private songtaew hire for touring around the local area. A private taxi hired on a long distance tour should be between 2500 and 3000 baht at the most. My Thai wife and i travelled from Chiang Rai city, north to Doi Tung Royal Gardens and then the Golden Triangle museum and over to Chiang Sean and back to Chiang Rai by private taxi for 2500 baht between 8am to 5pm in 2014 . You will need to pay for any road toll fees and entry fees. Dont pay until the end of the day or just give a small deposit. The driver will then be happy to wait when you visit an attraction. You must get the drivers mobile phone number (and give them yours) as he/she may need to park elsewhere. You can then locate them after each attraction visit, and dont accidently get in some other tuk-tuk. Be aware some tuk-tuks are old and all of them cannot go long distances with their small engines, especially not up to the local Doi (mountain) temple. You need to hire an air-conditioned private taxi on long trips. Find a driver who can speak your language. Most speak a reasonable amount of English.
Tourist destinations such as the ancient city of Ayutthaya have tuk-tuk drivers that can take you around the most popular local tourist attractions. They all have a display board with photos and fixed prices. Just walk down the street and you will be constantly offered a tour.
Self Tours
---
Organizing your own self tours in Thailand will make for a cheap vacation. Fronting up to the actual tour operator, train or bus station booking booth you will usually only pay the price that the locals pay. Exceptions are likely to be when, for example, visiting a museum. The price for foreigners can be more than what the locals pay. Organizing your own tour is far cheaper vacation option and you can stay where you want for as long as you want instead of being hurried along to the next destination. The drawback is you need to do your home-work first, preferably doing most of the planning before you actually arrive in Thailand.
If you organize where you want to actually visit beforehand, then bartering with a local tuk-tuk driver (short trips only) or Songtaew (pickup taxi-truck with several other people) will be cheap if you are careful.
Large Songtaew's take about 10 to 12 people, depending how many slim locals or fat "farangs" are seated. They are cheap and a short ride of around 10 to 15 minutes (or longer in slow traffic) should only cost 30 baht (each) at the most. "Farangs" can get charged more but you must ask the price first. If you are told 100 baht or something ridiculous then just walk away and pick another tuk-tuk or songtaew. I travel with my Thai wife, so i only pay what the locals pay because i give her the money to pay the driver. The driver will not depart until the songtaew is full, so you may be waiting for a while. Songtaew's have distinct routes when ferrying around the locals and tourists, so you need to ask. The more remote cities with not so many tourists sometimes have smaller songtaews and tuk-tuks designed with a lower roof to accommodate the locals average height.