Things to do in Chiang Rai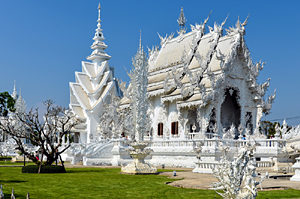 White Temple
Wat Rong Khun is commonly known as the
White Temple
. Just 30 minutes drive from Chiang Rai city this attraction draws locals and tourists in huge numbers.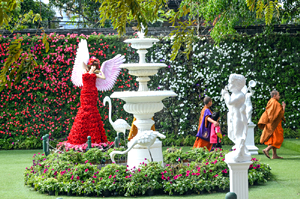 Tung Gardens
These immaculate and colorful gardens are located near the center of Chiang Rai city. It hosts various flower displays and entertainment throughout the year. There is a large cultural hall in the center of
Tung Gardens
with interesting historical exhibits.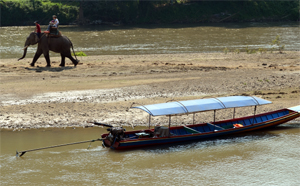 Mae Kok River
You can take a "long boat" tour from the tour operator located just outside Chiang Rai city on the banks of the
Mae Kok river
. There are several villages to visit, an elephant park and other interesting locations along the way.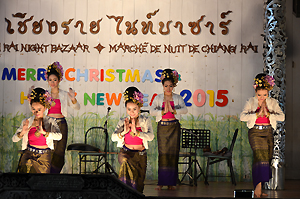 Night Bazaar
The Chiang Rai
Night Bazaar
is a very popular place for tourists at night. There is entertainment, shops, markets and restaurants throughout this complex and prices are not expensive.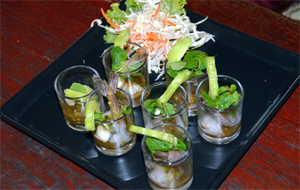 Food
Food in Chiang Rai is cheap and very good. Shown here are fresh green prawns in a chilli marinade with Thai basil served in a glass. This is on the menu at the
Night Bazaar
in the large central open style wooden structured restaurant. It has a high pitched roof with polished wooden tables and ornate surroundings. The service and food is excellent.
There is also a second section to the night bazaar that has many food stalls with an open area of tables and its own seperate entertainment.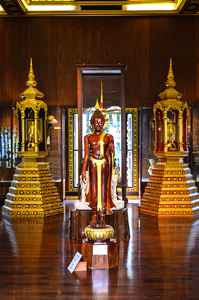 Wat Phra Keaw

Wat Phra Keaw
is the most important temple in Chiang Rai. The complex has an amazing ornate wooden museum displaying magnificient historical artifacts. One of the temples has the Jade Buddha of Chiang Rai.
Browse the links below to see and read more of Chiang Rai