Wat Phrathat Doi Suthep Ratchanarawthan commonly known as Wat Doi Suthep was founded in 1386. This temple is very busy with Thai locals and tourists and is one of the most important temples in Chiang Mai. It is located 15 kilometers from Chiang Mai City on Doi (mountain) Suthep via route 1004.
The upper terrace holds the great Chedi where you will see Buddhists walking around this amazing structure 3 times clockwise holding a flower. Outside of very popular tourist destinations in Thailand such as Pattaya and Phuket you will find that dress standards are modest and respectful and this is especially true within the walls of a Buddhist temple and monastry. Shoes must be removed before entering this sacred place and standard dress with no sleeveless tops or revealing front or back. Dress or pants should reach to the ankles.
Open 6am until 5pm.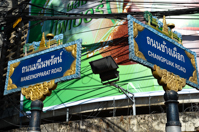 To get there, take a tuk-tuk to the intersection of ManeeNopparet and ChangPuak Road.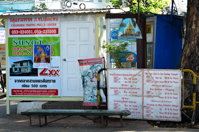 From there you can take a red Songtheaw (taxi truck) up to the mountain for 50 baht per person (price may have increased).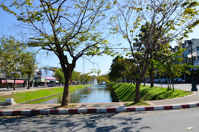 ManeeNopparet road is on the north side of the moat that surrounds old Chiang Mai.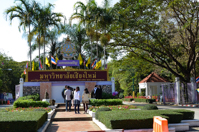 On the way you will pass the entrance to Chiang Mai University. This university was established in 1964.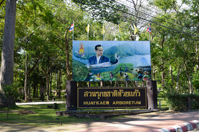 Next is the entrance to Huay Kaew Arboretum. This is a botanic garden and fitness park open to the public and is spread over 10 hectares. Open 9am to 5pm.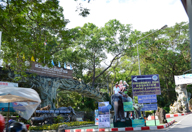 Chiang Mai Zoo and Aquarium is next to Huay Kaew Arboretum. Open 8am until 5pm. This zoo is spread over 200 acres.
Click on the gallery photos below.