Things to do in Pattaya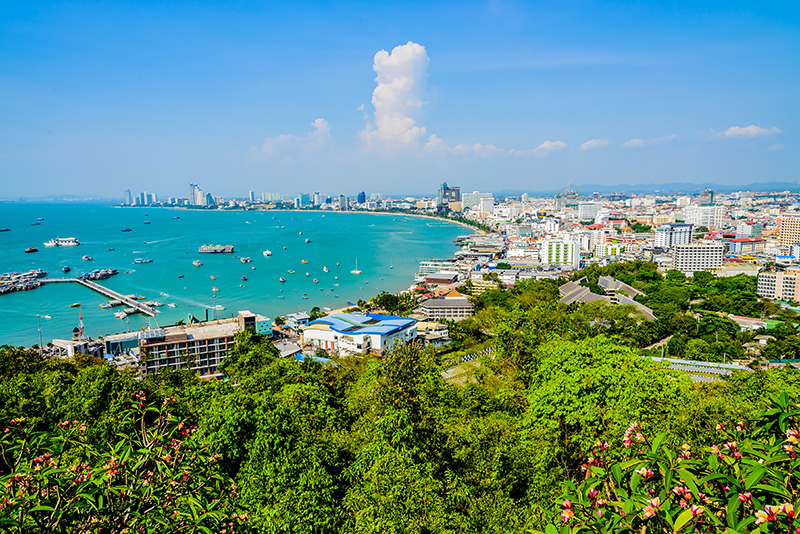 ---
Pattaya City

Pattaya City is located 160 kilometres (99 miles) and is about two hours drive south of Bangkok. The options for travel from Bangkok to Pattaya are busses, train, private taxi, minivan picking you up to your hotel or you could rent a car. There are airline services but it takes twice as long due to stopovers.

To get to Pattaya from Suvarnabhumi airport you can take a private taxi for about 1500 baht or take a bus from the Suvarnabhumi Public Transport Center located 3 km from the airport. Take the free express shuttle bus from arrivals on the second floor that also stops at the car rental center.

The Pattaya city districts are North, Central and South. Outer city districts are Wong Amat-Naklua to the north, the more prestigious Pratumnak Hill to the south west, Jomtein to the south and East Pattaya on the east side of the Sukhumvit main highway.

You can spend an entire vacation in Pattaya with all it has to offer. There are all types of entertainment for single people and families in Pattaya. There is many shopping centers and malls, cultural entertainment, water fun, a zoo, and much more.

You can get around Pattaya by hiring a motor scooter (risky) or taking a songthaew (taxi truck) that holds about 10 to 12 people at a time.
Songtheaws have distinct routes around Pattaya with the main circuit going south down the main Pattaya Beach Road until Walking Street in south Pattaya, then turns around one block to go north up Pattaya 2 Road through central pattaya until it reaches north Pattaya at Dolphin Circle Roundabout and then back down Pattaya Beach Road.
A single ride should only cost 20 or 30 baht per person. Get in a waiting songtheaw that has people already seated because the driver will wait until it is full before departing.
If you get in an empty one that is waiting then the driver may assume you want a hire ride, and charge you 100 Baht. You can flag down the correct colored one as many just go round and round picking up customers. Press the buzzer inside the cabin when you want to stop. Ensure you have the correct change when you pay at the end.The all blue baht bus for north/central/south Pattaya city. The blue with white band baht bus goes to Jomtein beach. These wait at Pratamnak Road which is the southern continuation of Pattaya 2 Road.

A Thanon is a major road and a Soi is a street. If a Soi is a major street it will have its own name and minor streets coming off this will simply be named Soi and incremented by number, such as Soi 1 etc.

Pattaya city has a very scenic walkway down Beach Road which ends up to the start of Walking Street where you can continue on to the pier where boats await to take you to any of several floating restaurants.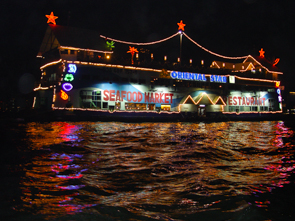 Floating Restaurants
---
Walk to the end of Walking Street in the evening and out onto the pier to catch a free speed boat ride out to your choice of several floating restaurants out on Pattaya Bay.

Pick a night with little breeze if you want to eat on the open top deck which has the most magnificient views of Pattaya city. You may want to search online for some reviews before choosing the restaurant.
Beaches
---
Pattayas golden beaches are next to the main Beach Road. On the other side are shopping malls and markets.

Jomtein Beach is another popular destination only a short ride south of Pattaya city. You will find many resorts and restaurants lined up on the main road that stretches along the coastline. There are places to relax, have a drink, get a foot massage and pedicure, buy food from beach vendors, order a meal, and of course, go for a swim.
Condominiums
---
Pattaya is a retirement haven for expats living abroad who often purchase a condominium apartment. Many have a magnificient view out into the Gulf Of Thailand.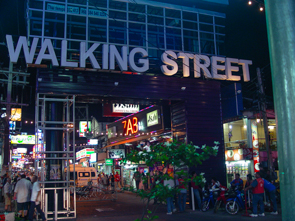 Walking Street
---
This famous street opens up to only pedestrian traffic in the evening. There are restaurants, many bars and nightclubs and interesting sidewalk shows. This is more of an adult entertainment area. Every night it is always busy with tourists. At the end of the street is Bali Hai Pier.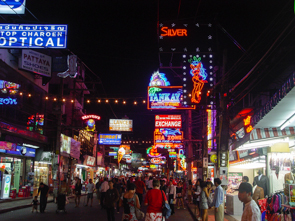 Nightlife
---
Beside the nightclubs, restaurants and bars in Walking street there is the quieter scene north on Naklua Road and the more relaxed area of Jomtein Beach which is well south of Pattaya city.

Jomtein has more bars, nightclubs and restaurants and some have tables where you can dine right on the beachfront. Some of the more entertaining venues are the ladyboy caberet shows, live music bars and Muay Thai kickboxing.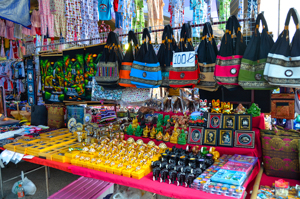 Shopping
---
Some of the more popular shopping malls in Pattaya are Mike Shopping Mall in the center of the city, Central Festival Pattaya, Pattaya Floating Market located out on Sukhumvit Road, Central Center and Pattaya Night Bazaar located south on 2nd Road.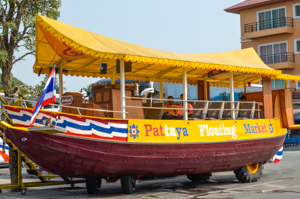 Floating Market
---
Pattaya Floating Market is located on Sukhumvit Road, 25 kilometers south from central Pattaya City. It has a new market complex and the more authentic older style market area all spread over 62 acres.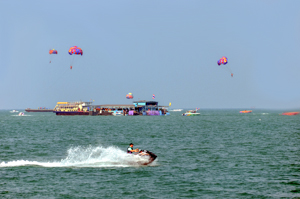 Water Fun
---
Pattaya bay has water activities for the more adventurous tourist. You can parasail by taking a pick-up boat from the Bali Hai pier located at the end of Walking Street and out to the pontoons in the bay.

Jet-ski hire is risky due to scams on tourists being blamed for pre-existing damage.

There is also snorkelling, scuba diving, water-skiing and deep sea fishing on chartered boats.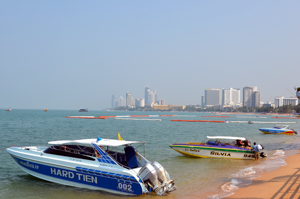 Island Tours
---
Pattaya has speedboats, ferries and sailing tours to take you to any of the several islands off the coast.

There are several small and larger islands in the Gulf of Thailand just out from Pattaya that are very popular with tourists. You can take a ferry or hire a speed boat to visit for a day. There are resorts on the islands if you want to stay.

The closest and smallest but with no accommodation is Koh Krok and accessible with speedboat hire from Bali Hai pier and is cheaper if you are in a group. The largest island is Koh Larn and there is a regular ferry service departing from the Bali Hai pier. Koh Larn island has several beaches, water sports and accommodation.

Koh Sak is a smaller island with only two beaches and only accessible via speedboat hire. Koh Ling (Monkey Island) is home to hundreds of macaque monkeys. They are wild but can be fed nuts and fruit. To get there take a sailing tour from Ocean Marina Yacht Club in Na Jomtien.

See the Vacation Islands of Thailand for more information.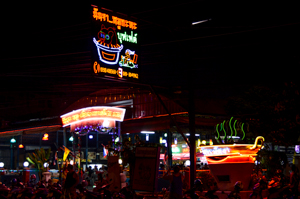 Thai BBQ
---
There are many Thai BBQ open restaurants around Pattaya and some of the best are in Jomtein which is a short and cheap songtheaw ride south of the city. These types of restaurants are very basic but you can always find a flashy restaurant and pay a lot extra just for the decor!

Very fresh seafood. Sometimes the prawns start wriggling after they warm up on your plate after being taken out from the refridgerated buffet tables. In the very early morning you can stroll the beaches and see the fishermen untangle their nets and clean the boats after fishing.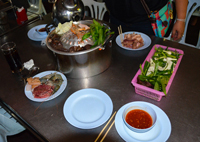 Prices vary but are very cheap compared to eating fresh seafood in many western countries. You help youself to the refridgerated buffet of small cut assorted meats, seafood, fish and take back to your table to cook yourself on top of a charcoal Thai style round BBQ that is surrounded by a moat of stock where you can simmer your vegetables. There is a large array of condiments to choose and usually a selection of Thai style sweets and icecream for afterwards.

Prices per person are around 300 to 500 Baht and this is how the locals eat, so the food must be good.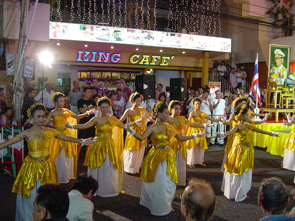 Thai Culture
---
The Thai Alangkarn Theater south of Pattaya and past Jomtein on Sukhumvit Road is a large complex with a restaurant.
It is a cultural theater and boasts "The Thai Extravaganza Show" with pyrotechnics, multi-colored laser effects and real surround sound system.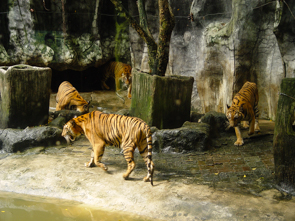 Tiger Zoo
---
An hours drive from Pattaya city there is the Sriracha Tiger Zoo. There is a free shuttle service from most major hotels in Pattaya. The zoo is open 8am until 6pm daily and has a food and beverage kiosk, a restaurant open for lunch, and a souvenir shop.

The zoo boasts tiger, elephant, crocodile shows, and pig shows. You can also see the famous Scorpion Queen.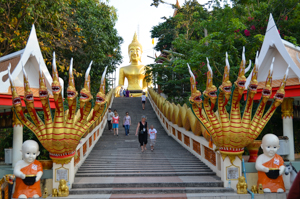 Temples
---
One of the more famous and popular attraction in Pattaya is Luang Phor Yhai, commonly known as Big Budda Hill. The other must see attraction is The Santuary Of Truth located in north Pattaya.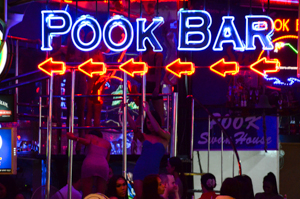 Nightclubs
---
Pattaya is well known for its bar and nightclub scene. Some of the popular areas are Walking Street, Soi 6 between Pattaya Beach Road and Second Road in North Pattaya, Soi Buakhao between Pattaya South Road and Pattaya Klang, Soi LK Metro in Central Pattaya.
Browse the links below to see and read more of Pattaya
X
Facebook Share
Would you like to Share or Like Thailand Self Tours ?