Bus, Boat, Rail and Taxi
---
Bus, Rail, regular Boat and Ferry services in Thailand are mostly very modern services that provide a low cost method of getting around which makes for a cheap vacation. You are paying the same price as the locals.

Shared Songthaews (Taxi Trucks on fixed local routes) in areas such as Pattaya are cheap, you will see the "30 Baht ride/per person" fare sign, that applies to everyone. There are also reasonably priced fixed shared ride rates in a Songthaew in Chiang Mai that take you up to Doi Suthep (mountain).

There are two prices for Tuk Tuks and Taxis, the normal price and the rip-off price. Tuk Tuks do not have meters, so you need to barter a fixed fare first. Short rides are often over-priced, but bartering a half day or full day tour fare would be a cheaper option and much cheaper than a tour company if you have several attractions you wish to visit.

All taxis have meters but drivers often hide them. Make sure the meter is ticking or barter a price before the ride and not while you are in the taxi with your luggage in the back. In 2019 my wife and I took a taxi from Bangkok International airport to a city center hotel and the metered fare came to 300 Baht. I gave the driver 400 Baht to be fair, but he originally covered up the meter with a towel and wanted 600 Baht. There is a motorway toll fee that a passenger also pays, 25 Baht first toll and then 50 Baht exit toll.
Bangkok has two rapid transit Skytrain lines, the Sukhumvit Line running roughly north to south-east and the Silom Line ending on the west side of Bangkok after crossing the Chao Phraya river. Both lines have an interchange at the Siam station in a very central part of the city where nearby large shopping complexes are located.

River transport on the Chao Phraya has a very busy and extensive express boat service running from Central Pier (near Saphan Taksin skytrain station on the Silom line). Other boat services cover canals that diverge off the Chao Phraya river.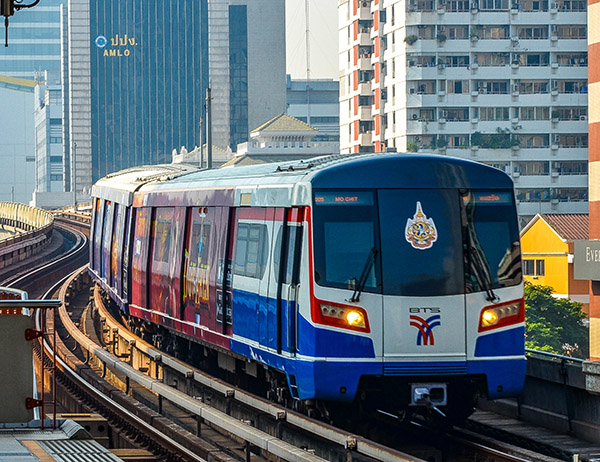 Bangkok BTS and MRT Trains
---
Fast electric overhead trains depart very regularly in Bangkok. Two major lines run north of Bangkok to the south east, and the other from the city to the west over the Chao Phraya River. MRT subway trains cover southern and eastern areas in Bangkok. These services have interchange stations that make getting around Bangkok very easy. The all day "Rabbit" (tag on/off) card is a smart buy. See the Bangkok transport map for all the transport service stops.
Songthaews
---
Taxi trucks are cheap and are common throughout Thailands major cities. They hold about 12 people and either wait to fill up with people at specific locations or constantly drive around in designated loops.

Different songthaew colors indicate their route. Press the button to stop and then pay the driver in cash which should be roughly only 30 Baht per person on inner city loops.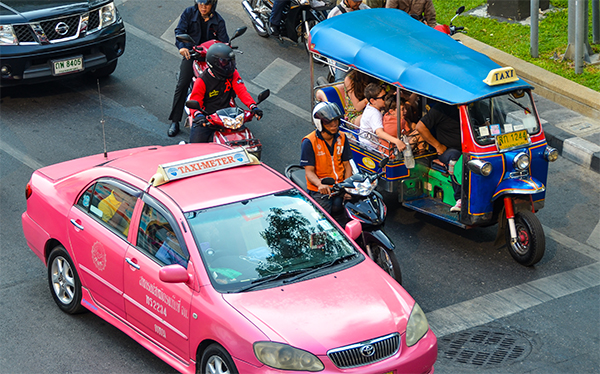 Taxi and Motorbike Taxi
---
Other ways of getting around is to use a regular metered taxi , just make sure they turn the meter on. These are air-conditioned but are the more expensive option. Major cities have taxi services.
There are motorbike taxis which can carry two Thais' or one falang (foreigner) behind the rider. They wear numbered bright colored vests. Very cheap but a bit more risky. Cities and large towns have this type of transport.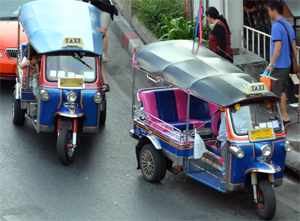 Tuk Tuk
---
A Tuk Tuk can carry two, or four people on the larger ones. They have a motor bike engine and are covered to protect you from the sun and rain. Tuk Tuks' can easily weave through traffic and down narrow lane-ways and are ideal for local area day tours because you can hire one for a few hundred Baht. This type of transport can be found in cities and large towns.
City Bus
---
This would have to be the cheapest method of getting around Bangkok if you can work out what bus to catch and where. Get a route map from a bus terminal. Different colored busses and their number indicate which routes they take. Only available in Bankok.
See Transport Hubs Bangkok for the major terminals.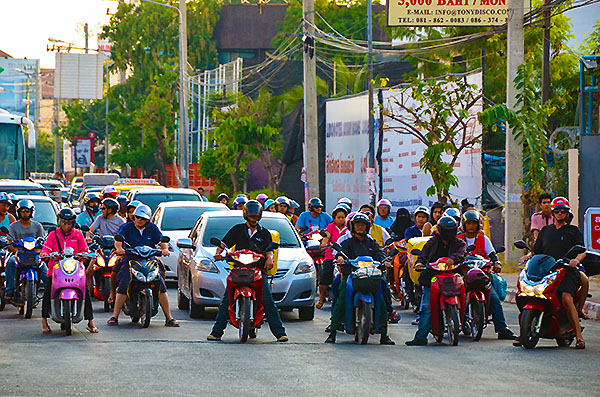 Hire Scooters
---
You can hire your own scooter in tourist precincts such as Pattaya and Bangkok. When stopping at traffic lights, the custom is to line up at the front or the side. Other vehicles will stop a few metres behind the white line. If you hire a car then you will usually need to also hold back from the front.

Many accommodation places have hire scooters. You should have a motorbike license from your country else your travel insurance will probably not cover accidents.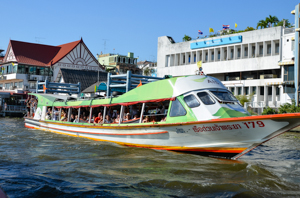 Bangkok Express Boats
---
In Bangkok the Chao Phraya Express Boat company runs commuter boats up and down the main river. These extensive services run north from Central Pier in the centre of Bangkok up to the far northern sections of the river.

Colored flags indicate the route. They are generally used by Thais getting to work and back home, but tourists can use these services, and it is a cheap way to get around long distances. During peak times in the morning and afternoon it can be very crowded on the commuter services. You can purchase single ride tickets but the all day ticket is cheap.

There are also Khlong commuter boats run by the Saen Saep Boat Service that intersect through the canals of Bangkok from the city center to the outskirts in the east. Only for the nimble and adventurous tourist.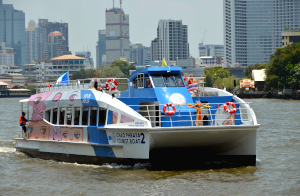 Bangkok Tourist Boat
---
In Bangkok the Chao Phraya Boat company runs the blue flag tourist boat up and down the river stopping at 9 specific piers. This limited service runs north from Central Pier in the centre of Bangkok up to Phra Arthit pier and starts at 9:00am.
See the Chao Phraya Famous Attractions tour for details.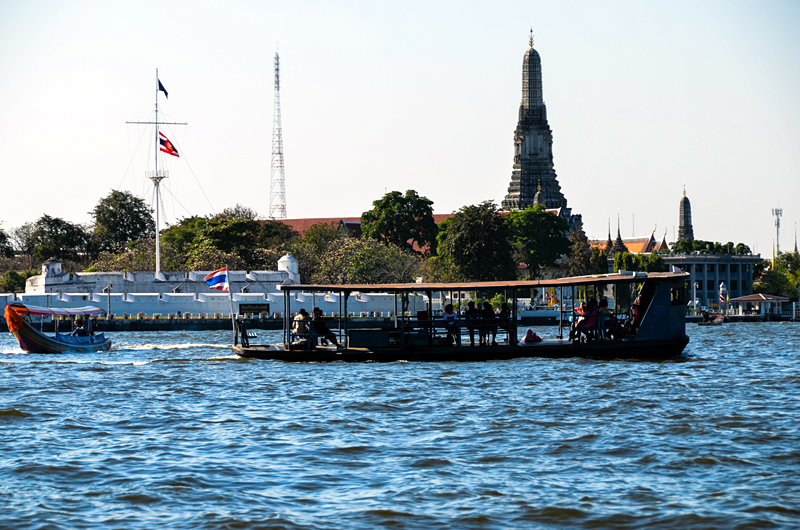 Chao Phraya Ferry Boats
---
In Bangkok the Chao Phraya Ferry Boats cross to the other side of the river at points where the commuter boats do not stop or when you travel in one direction and then need to cross over to the other side instead of taking the long way back. These only cost a few Baht per ride.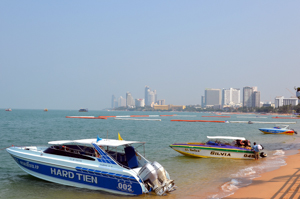 Private Charter Boats
---
Getting to and from the many islands in Thailands southern region can be quick and easy hiring a charter boat. This will be an expensive option. Normal ferry services would be cheaper.
Longtail Boats
---
In Bangkok and Ayutthaya, Chiang Rai, and Sop Ruak where the Chao Phraya , Mae Kok and Mekong Rivers are respectively located you can hire a long tail boat to take you on guided tours. Several people can be seated for a trip which makes it not too expensive.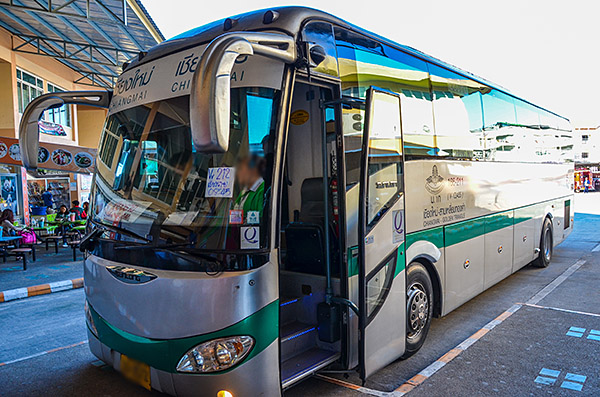 Long Distance Bus
---
Bus services in Thailand are extensive and prices are relatively cheap. Large air-conditioned modern coaches with toilets and with a modest on-board service run between the major cities on a regular basis. The air-conditioned coaches can get very cold inside, so wear warm clothes. Other non-airconditioned services on older busses run locally between the cities and towns withinin provinces.

Route times are mostly hourly, so you can purchase tickets a day before or the same day if you do not need immediately.
You can purchase tickets prior to arriving in Thailand if you need immediately by booking at 12GoAsia.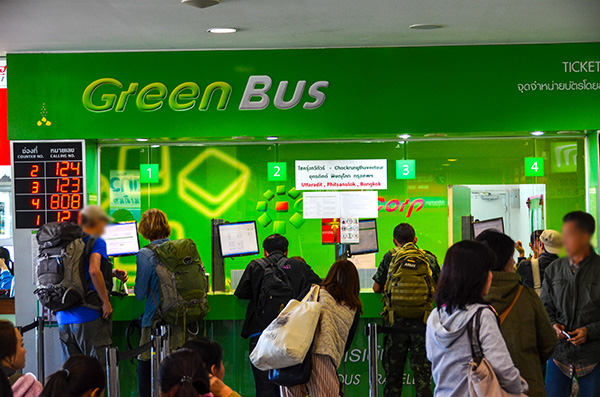 Bus Services
---
One of the largest bus companies is the Green Bus service located in the major cities of Thailand. See the transport hubs for the location of terminals.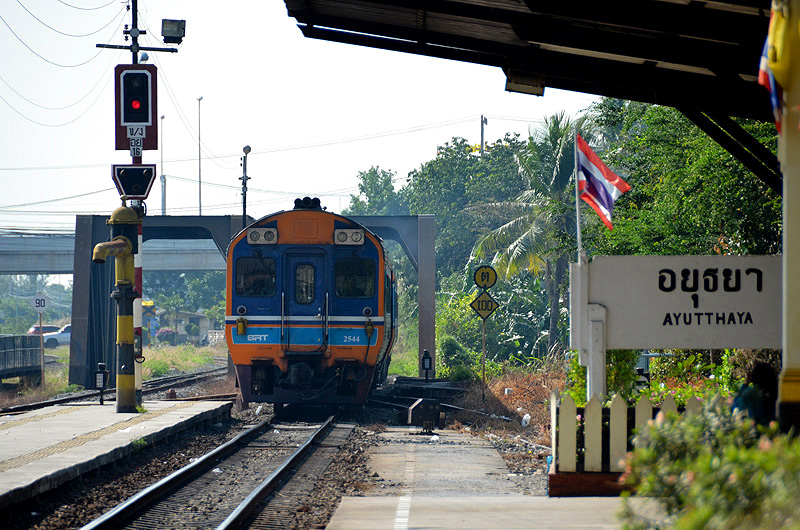 Long Distance Train
---
Thailand has a national train service that runs north from Bangkok to Chiang Mai, east to Ubon Rachathani, northeast to Nong Khai on the border with Laos, north west to Nam Tok, south east to Pattaya City and south to the border with Malaysia and onwards to Singapore. See the train tours articles for details.

Short distances from Bangkok to Ayutthaya can only be booked on the same day.

You should purchase tickets prior to arriving in Thailand for long distance routes. They need to be booked at least a month beforehand to get a specific day and time. See 12GoAsia for bookings.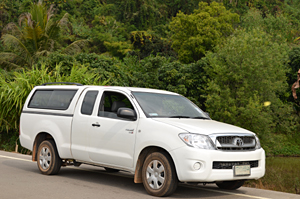 Hire Car
---
Major International and local car hire companies are located in the major airports in Thailand. If you plan to self drive then ensure you hire the right car for your needs. Thailand has mountainous regions where a regular city car will not make the distance. See the self drive article for important information on driving in Thailand.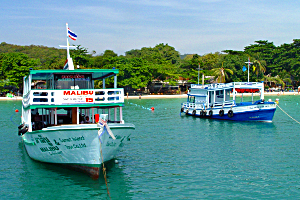 Island Ferry
---
Wooden ferries take you to your Island vacation for the closer islands such as Ko Samet. A very relaxing and quaint way to travel with not such a large crowd.
Other more distant islands in the Andaman Sea and west coast of the Gulf of Thailand have the modern larger fast ferries.