Eating food with a fork and spoon is the modern way that Thai people have their food which is a very practical method to use for the type of unique dishes you will find on a menu in Thailand.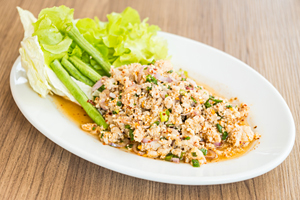 Spicy Minced Chicken Salad
Other varieties are the spicy beef salad. Chopped meat is fried with Thai spring onion and mixed with pan cooked cracked dry rice to give it a nice taste and texture. This is the real salad and how it is made in Thailand, not what many western restaurants serve mixed in lettuce.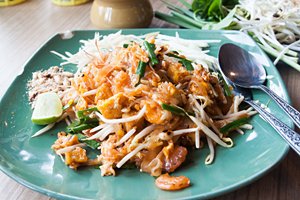 Prawn Pad Thai
This classic Thai dish is very popular. Flat noodles are stir fried in a Pad Thai sauce with prawns and traditionally garnished with crushed peanuts, bean sprouts and a wedge of lemon. Typical alternative options are seafood or pork.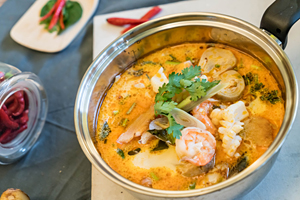 Seafood Tom Yum
Sometimes made a bit sour to suit for local tastes but a very delicious soup made with galanga and lemon grass that infuses a wonderful taste to this dish which makes it very popular with everybody.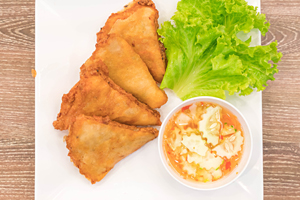 Prawn Spring Rolls
Thai spring rolls served with a spicy sweet dipping sauce with chopped cucumber and chilli.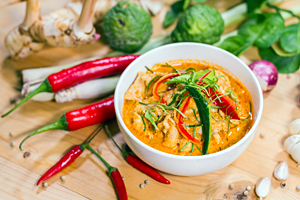 Spicy Curry Pork
In a red curry coconut cream sauce.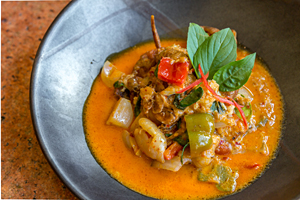 Soft Crab Curry
With Thai basil in a spicy coconut sauce.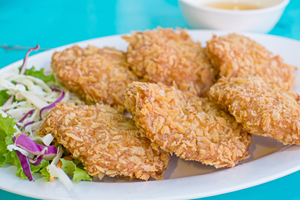 Deep Fried Fish Cakes
Traditional fish cakes, not usually too spicy. Another popular variety is the prawn cakes. Often served as a starter dish.
Thai Soup
A soup made of meat, mushrooms, chilli, and other vegetables, in a clear broth which is a typical meal Thai people eat regularly. Very tasty, healthy and nutritious.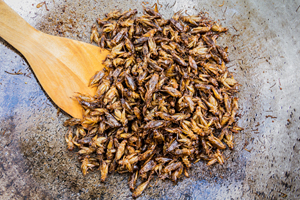 Fried Insects
Mostly found as street food served by vendors from carts equipped with a gas burner stove. Fried crickets are a popular crunchy snack but other insects can also be on the menu.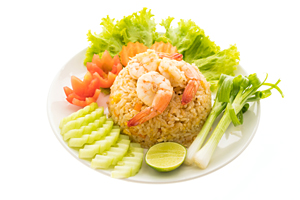 Prawn Fried Rice
Fried rice Thai style usually ordered as a side dish with a meal. Crab fried rice is also another popular variety.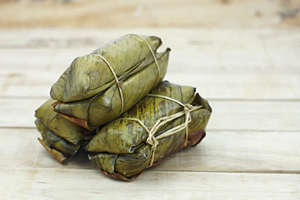 Sticky Rice
Glutinous (sticky rice) parcels wrapped in a banana leaf and steamed. Often found with a middle of sweet red bean paste, banana or peanut.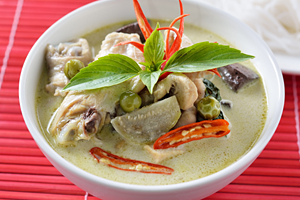 Green Curry Chicken
A hot and spicy green curry with chilli and Thai eggplant.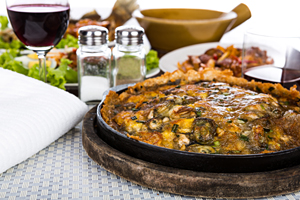 Oyster Omelette
Often on the menu as crispy oyster egg omelette.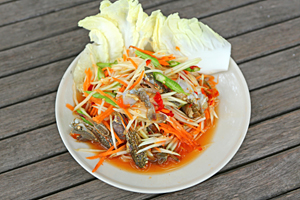 Papaya Salad
Extremely hot and spicy dish made with green papaya fruit shredded and pounded together with chilli and a pungent sauce and with raw crab peices that marinate in the sauce of this very popular dish with Thai people.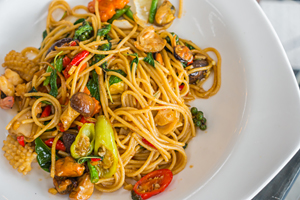 Seafood Spaghetti Noodles
Thai style noodle dish of seafood with basil and chillies. Very delicious favorite meal popular with everyone.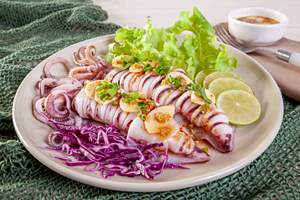 Steamed Squid
Served cold in a lemon and chilli sauce.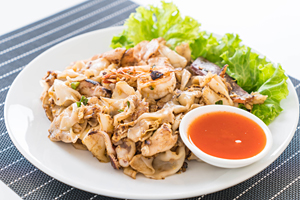 Flat Rice Noodles
With flat rice noodles fried with egg and any type of meat.
Spring Rolls
Thai style spring rolls with vegetables and glass noodles (vermicilli bean thread). Served with spicy sweet chilli sauce dipping.
Pork Sausage
Very tasty Thai style barbequed pork sausages. Often found on sale from street food vendors.
Banana and Pumpkin Cakes
Topped with shredded coconut. These Thai style sweet cakes are very popular and healthy.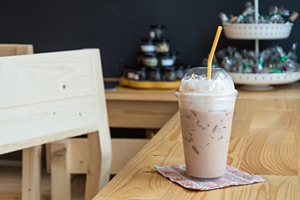 Iced Thai Tea
Thai iced tea is distinctly different, very delicious and sweet. Other varieties are the iced coffee, with or without milk.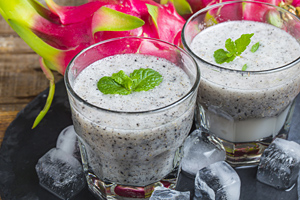 Pitaya Juice
Pitaya juice is a fruit that is pulped into a drink with a very unique and refreshing taste.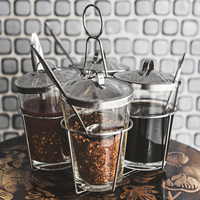 Thai Seasoning
Always provided with a Thai meal are the pots of seasonings to add to any dish as required,... sugar, vinegar, and chilli flakes.