Touring guide of Ramkhamhaeng District in Bangkok City for your next vacation in Thailand.


The Ramkhamhaeng district in Bangkok is located on the east of side of Bangkok around Ramkhamhaeng Road following the Saen Saep Canal and south of the main Bangkok-Chonburi motorway. Places to see are the Museum of Buddhism Art, Prasart Museum, Wat Thep Lila, Safari World, and several malls and shopping centers.

Take the airport link train to Ramkhamhaeng station, but do not take the express train all the way out to the airport. You can also take an express boat on the Saen Saep canal. Road transport will be difficult due to traffic congestion and far more expensive. Touring this area could only be done by taxi at a premium cost or by bus if you get a time-table.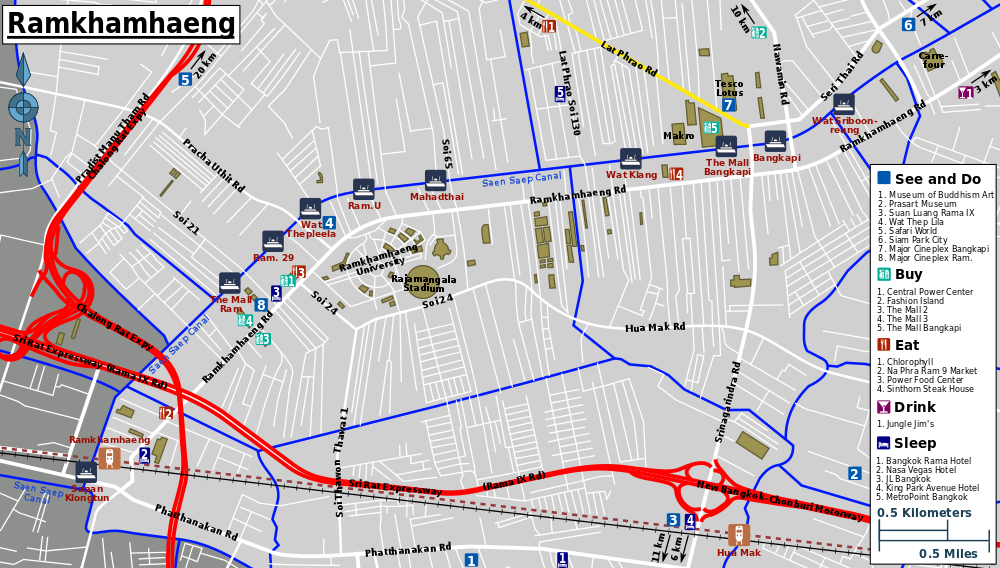 Globe-trotter [CC BY-SA 3.0], via Wikimedia Commons
Hotel Rooms Map of Bangkok