---
Full day self tour but recommended to split over two days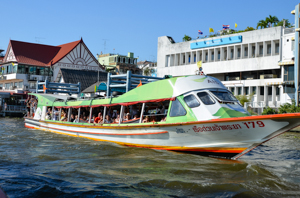 This self tour using the Chao Phraya Tourist Boat (Blue Flag) and regular commuter boats from the Chao Phraya Express Boat Company take you up the river stopping at the piers where you can get off and visit the local attractions and then hop back on the tourist boat to the next pier. The fare is only 150 Baht per person for the day allowing unlimited travel on the tourist boat and all the other regular local line boat and flag boats.
Buying tour packages can eventually become a very expensive way to see Thailand. Organizing a self tour will make for a cheap vacation to Thailand.

There are many attractions which could be visited in one day but it is recommended to split the attractions over two days if you want to see everything at lesuire.
The tourist boat is specifically for the tourist which departs every 30 minutes from Central Pier (Sathorn Pier) between 9:30am and 4:00pm.
You must tell the guide you want to get off at any pier when they ask everyone else they will not stop.
The regular boat line and the express flag boats are used for locals commuting between work and home. They can be very crowded during peak times and not recommended if you have young children.

Preperation
Take sun-screen lotion and wear full covering clothing to prevent sun burn and allow access to the several temples that require you to have respectable clothing. Bring plenty of bottled water to drink. Many attractions charge an entrance fee. Ignore any strangers approaching you who will say the temple is closed today but they can take you to alternative attractions.

To get there
Take the BTS Skytrain to Saphan Taksin station which is almost above Central Pier on the Chao Phraya river. Take the stairs down to the main road and walk a short distance to the river.
Directions
Click on the colored map markers on the bottom of this page for directions to each attraction (blue marker) and the location of each pier (red marker).
---
Boat Temple (Wat Yannawa)
Prior to getting on the tourist boat which does not start until 9:30am you can visit the Boat Temple which is open at 8:00am and is only 10 minutes walk around the corner from Sapahan Taksin BTS station. Walk east back towards the city up Sathon Tai Road a short distance and turn right (south)at the first road which is Charoen Krung Road. Walk about 100 metres until you reach the ornate arch on the right which is the entrance of Wat Yannawa. This temple is very unique for Thailand and well worth a visit. There is also the prayer hall building next to the boat Temple.
---
Central Pier (Sathorn Pier)
Walk back to Saphan Taksin station but continue walking west down Sathorn Tai road towards the river which is a very short distance. At the front of the pier there is a stall selling private expensive khlong boat tours that can take you up the several canals that diverge off the main river. Go to the ticket booth on the pier and purchase a 150 Baht all day river boat ticket per person and dont forget to purchase the map booklet showing the tourist piers with nearby attractions. The ticket can also be used on all the colored flag express boats and the no flag regular line. The tourist boat (Blue Flag boat) does not start services until 9:30am. The other boats start at 6:00am for regular commuters.
---
Oriental (Pier 1)
The Mandarin Oriental Hotel is located at this pier. It is one of the most luxurious hotels in Bankok.
---
Si Phraya (Pier 3)
Near this pier is the River City shopping mall which offers a higher quality of local art and souvenirs. There are also several luxury hotels nearby. Night time boat tours operate from this pier.
---
Rajchawongse (Pier 5)
Yaowaraj Chinatown can be reached by walking up Ratchawong Road which is the exit road from the pier and up to Yaowarat Road. Turn right (south) down Yaowarat Road which continues on until you reach the huge red China Gate.
Phahurat Indian Markets (Little India) and the Sampheng Lane Market are located are also located near this pier.
Nearby is Wat Mangkon Kamalawat. This is the most important Chinese temple in Bangkok which is very busy during the Chinese New Year.
---
Tha Tien (Pier 8)
Wat Arun, Wat Pho, Museum of Siam, Tha Tien Market, Pak Klong Talad Flower Market are the popular attractions. Wat Arun is on the other side of the river and can be reached via a 3 Baht cross-river boat ride from Tha Tien Pier.
---
Maharaj (Pier *)
The Grand Palace is located closeby which also has Wat Phra Kaeo inside the palace grounds. There is a strict dress code for the palace and temple. This is a highly recommended tourist attraction in Thailand.
Bangkoks' National Museum and City Pillar Shrine are also popular attractions.
---
Wang Lang (Pier 10)
This pier is situated on the west side of river. The Royal Barge Museum is located by walking from Phra Pin Klao Bridge Pier which is one pier up. Walking from Wang Lang Pier over the Arun Amarin Bridge takes you to the smaller Royal Thai Navy Barge dock.
Wang Lang market, Supatra River House restaurant and Wat Rakhang Khositaram are the attractions near this pier.
---
Phra Arthit (Pier 13)
Phra Arthit Road and its markets are located immediately outside the pier exit. Phra Sumane Fort is a short walk north from Phra Arthit pier. Khao San Road with its popular markets is 350 metres south-east of the pier and further on walking south from Khao San Road on Chakrabongse Road is Banglumpoo Market.
Between 4:00pm and 6:00 pm at Phra Arthit pier services begin for the tourist boat all the way back down to Asiatique Pier via Central Pier. Asiatique is a shopping and entertainment area just south of Central Pier that opens at 5:00pm. The blue flag tourist boat stops at all the tourist piers on the way back.
---
Asiatique Pier
Open: 5:00pm until midnight
Address: 2194 Charoen Krung Rd, Wat Phraya Krai, Bang Kho Laem, Bangkok
The tourist boat has services every half hour between 04:40pm until 06:40pm at the Asiatique shopping and entertainment area. There is also a shuttle boat service between Central Pier and Asiatique
This large mall is situated south of Central Pier on the river front. A large promenade stretches along the front with hundreds of shops and many restaurants inside this complex.
---